SomeAre Solstice Flutes Artist In Residence Program
SomeAre Solstice Flutes is excited to announce their "Artist In Residence" program! Janina and John will bring their music, flute building workshops, soundscapes, and drum circle to your group or community and deliver a dynamic, interactive residency designed to meet your needs.
A SomeAre Solstice Residency consists of:
*SomeAre Solstice Flutes Concerts (one or two concerts - depending upon wish of organizer) "Ripples from the River" or "Nordic Sound Journey" consist of approximately one hour of guitar and flute instrumentals, storytelling, and vocals or presentation of historical Norse instruments/folklore.
* 2-4 Playshops (ie. Flute Building, Flute Decorating, Flute Lessons, Drum Circle or Percussion Soundscapes, Nature Talk ("Nature's Calling" Interactive Program)
* Artist will be available for consultation, networking, music jams, or art work that can be done on site. SomeAre Solstice Flutes has a sandwich board sign which can be put up near your Centre to indicate "on duty times" where they can be working while at your location.
Setting Up Your "Artist In Residence"
With SomeAre Solstice Flutes
Suggestions for a Successful "Artist in Residence" Experience
1. Indicate your interest in a Residency experience, and establish the type of Artist In Residence and dates needed for your establishment. Please contact us to determine availability and to make further arrangements.
2. Provide mileage to and from our location to your establishment.
3. Provide accommodation for the artists for the duration of the Residency.
4. A minimum of $150 honorarium per day is appreciated.
5. Provide a safe and "lockable" site/room/suitable environment in which the concerts and playshops may be facilitated.
6. Marketing helps promote your program and also provide communication between staff, community, patrons or target group for the experience. This can be done through posters on site, blogs, emails, word of mouth, video, and social networking like Facebook.
7. Please note!!! Instruments and supplies for playshops are provided by the artists!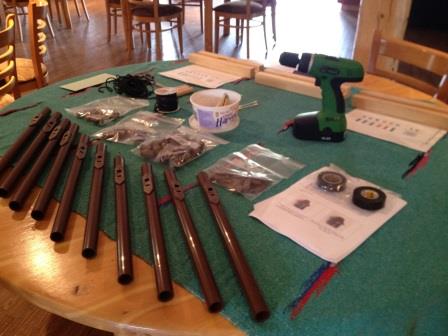 Flute Building Playshop
Testimonies:
"Your show was so much fun, and our children really enjoyed your workshops. This just "made" our trip!" - guests from LA, USA
"This was really nice! We'll enjoy playing these (flutes) at home"! - guests from Netherlands