Welcome! Bienvenue! Tawow! Velkommen!
Ciad Mile Failte!
* For SomeAre Solstice Flutes Band Bio and contact info...
please check our Media Kit or for Performance Poster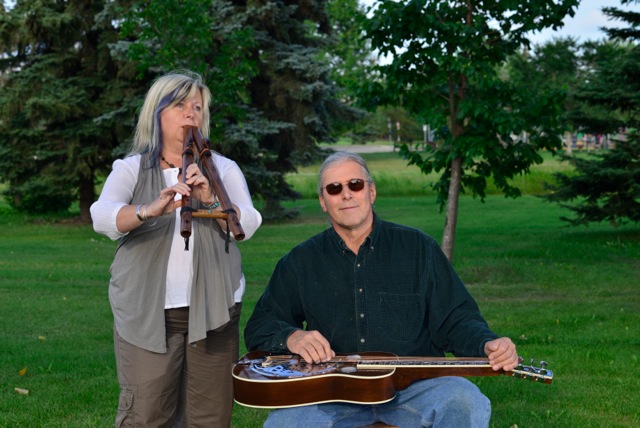 Photo: C. Lydell August 2013
Click here to read about Janina or John's Music Story
For Janina's Educational Programming and Work Experience, please click HERE.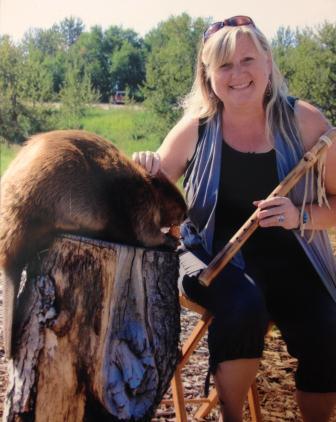 Photo by Discovery Zoo Staff - Innisfail, AB - August 2012
Educator, musician, naturalist, poet, and photographer, Janina is a transformative artist who is passionate about sharing the music and melody of the Native American Flute, other World instruments and Norse heritage with YOU! Originally from central Alberta, where she spent hours studying, learning and playing about aspen parklands, lakelands and mountain regions of the province, Janina has spent the past 30 years working, raising her family, and living in the "Peace Country" of Alberta and British Columbia.
The inspiration found within such a land of diversity and space is reflected strongly throughout Janina's music and workshops. Fascinated by nature, ecopsychology, humanity's journey, and our global society in general, Janina is honored to encourage each individual towards finding their creative voice in their own unique way through the SomeAre Solstice Music, Canada Norse, and/or Woodland Wellness Workshops.
Her concern and passion for the well-being of our Planet, her fascination and spiritual bond with nature, and the stories surrounding her various flutes and instruments add a heartwarming flair to Janina's presentations.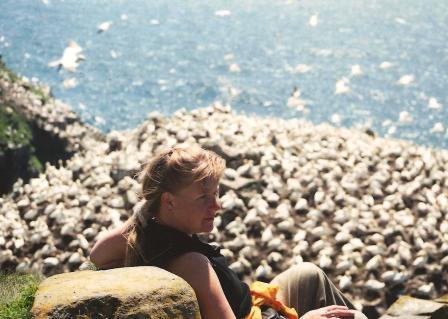 Janina and Gannet Colony at Cape St. Mary's - Newfoundland, Canada