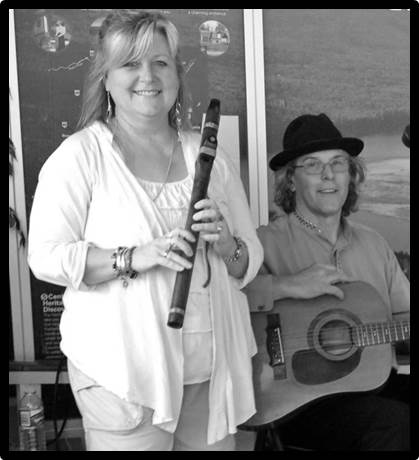 Bio:
SomeAre Solstice Flutes
Janina Skutle Carlstad & John Fletcher produce
acoustic styling in a cheerful fusion of Native American Flute, guitar, drum, and dobro.
With a unique energy and chemistry all their own, this duo shares songs of woodland paths, wild lands, rivers, mountains, and a glimpse of life in Alberta's northern " boom".
To find out more about the artists, please read on below: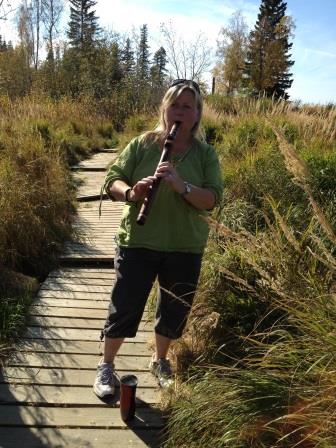 Janina is an educator, avid naturalist, poet, and musician.  An enthusiastic fan of all genres and cultures of music and dance, Janina began her journey with the Native American Flute in 2007 when she heard a captivating performance by award-winning author and poet, David Bouchard.  Immediately entranced with the melodious and haunting sound of the cedar flutes, Janina purchased her own flute within the month and has never looked back.  
Her journey with the flute has led her to playing music for her own enjoyment and meditation, networking in a stronger connection with nature and peoples around the world, performing solo and collaborative performances, sharing and instructing world music, and most especially, following her passion for enabling people to find their own creative voice through the flute.  In addition to her musical presentation of the Native American Flute, Janina now offers inservices on educational programming and integration of the flute within schools, fine arts institutions, museums, and social programs, and is a flute instructor and consultant.  The flute journey has influenced Janina in sharing a strong passion for collecting and learning about World Flutes and enjoying the wide network of music enthusiasts with which she journeys on this musical experience. 
Janina also plays guitar and utilizes a variety of world music instruments, ie. kalimba, cricket, rainstick, djembe, cajon, bells, ocean drum, singing bowls, and the like, in performances and teachings.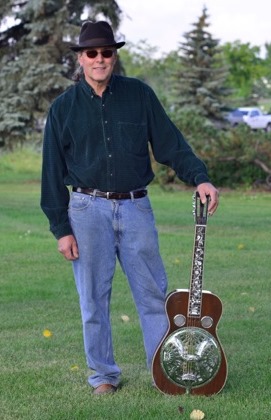 John started playing guitar early on in life at 16 years of age.  He then played rhythm guitar for the Rock'n Roll Show Band, "The Obvious", which enabled him to finish his high school education. Gigs led them to shows across central and southern Alberta.  After he sold his heavy rock and roll guitar gear, he bought a 5-string banjo and experienced some intense bluegrass finger picking.  
Collaborations with various instrumental and vocal projects occurred over the years in between the welding shifts which took him across the nation. An avid fan of all music genres, he attends music festivals whenever possible!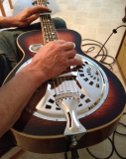 John took a brief hiatus from playing guitar when an injured and arthritic finger caused him to wonder if he would ever be able to play again. An inspiring concert encounter with dobro aficionado, Jerry Douglas, influenced John in turning his attention to playing the dobro (resonator guitar)!  Playing the square-necked dobro enabled John to play without using his fingers, as it is played with a steel bar and John's musical journey took on a whole new style...  and now, John is introducing the Weissenborn style guitar to his music and melodies, incorporating a whole new dynamic to his sound!
Their flutes and dobro brought Janina and John together in the fall of 2010, where their musical collaboration took a serious turn in a brand new direction and the two soon formed the acoustic duo of SomeAre Solstice Flutes.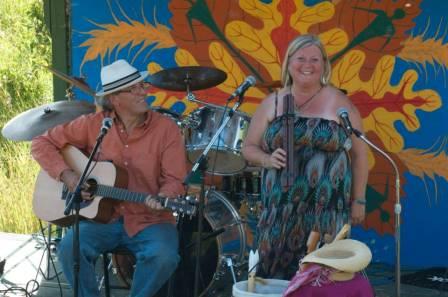 Photo:  Rick Scott
John and Janina's intense passion for the Native American Flute and Roots music has led them into sharing their World music through storytelling, coffeehouses, concert performances, retreats, yoga, meditation, sound healing, and educational programming and nature talks throughout  the Peace Country of Northern Alberta and British Columbia to the rivers of Manitoba and into the United States.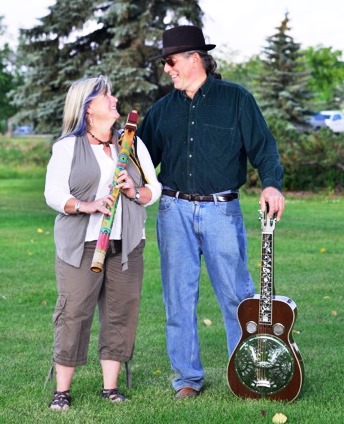 Sound Samples Are Available at:  
Reverbnation - SomeAre Solstice Flutes
*Recording is done through Kjetil Landsgard at Caprine Studio in Toms Lake, BC
Web:   www.tripod.com/somearesolsticeflutes
Email Contact:  SomeAre Solstice Flutes