Velkommen til/ Welcome to
CANADA NORSE - The Swans of Winter Project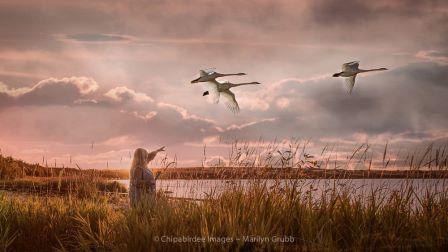 "Canada Norse: The Swans of Winter Project" is a folk project examining historical instruments, music and nature from Old Norse, Norwegian and Canadian history. The focus of Canada Norse is to bring some of those heritage instruments forward in a combination of old and new ways with poetry, music and song as an artistic "bridge" which reflects influences from both "the old country" and the new, Canada.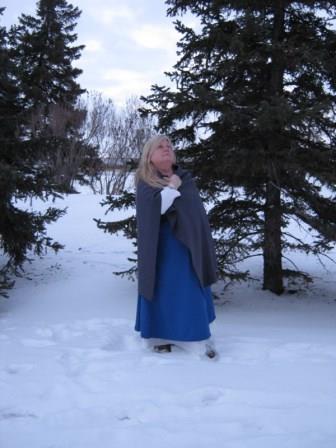 The landscapes and wildlife of Norway, Ireland, Iceland and Canada are featured strongly in this creative exploration by Janina Skutle Carlstad. The land and nature's influence upon historical peoples of Scandinavia and the resulting pioneers and immigrants who are the forefathers of some of our present day Canadian population appear in Janina's poetry and prose along with excerpts from the Eddas and other historical documents. These are presented in a delightful and sometimes playful blend of both English and Norwegian.

Animals and birds such as ravens, bears, reindeer, fox, seabirds and swans figure strongly throughout many of the Canada Norse creative works because of Janina's interest in them and because of their circumpolar habitats, influence, and presence in the folklore of these countries. And always... there are the rippling rivers, roaring waterfalls, looming mountains, and deep forests, ice and fire, glaciers....of....
Canada...Canada North... the Norse...Norge... the North...Canada Norse
Janina in Reykjavik

The Swans of Winter Project has led Janina to explore the lands of her heritage with research, holidays, music schools and workshops in Iceland, Ireland, and Norway as well as continued exploration of her life and history in Canada. She is excited about sharing stories and music that she is experiencing in this life-long learning expedition!
Whether it be an historical display and demonstration of historical Norwegian instruments, or a visit "from the past" by a migrant Viking woman, Solvor Knutsdatter, the Canada Norse project offers a cultural experience which may be of interest to your learning community or event!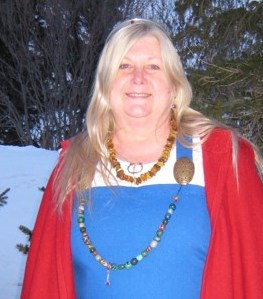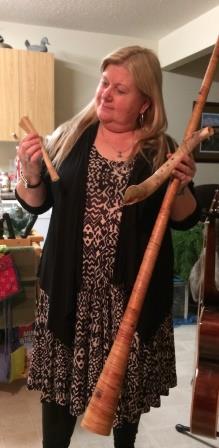 Tusen Takk! Much Gratitude goes to:
Janina Skutle Carlstad wishes to thank Kjell Braaten, Einar Selvik and Wardruna, J Fletcher, J H Lind, Marilyn Grubb of Chipabirdee Images, Winne Clement, Morton Fredberg, Greg Mottl, Thomasyne of Tewkesbury,
Christina Otterstrom Cedar, Chris Nogy, R. Carlstad, and Magnar Storbækken
for their information, influence, instruments, and inspiration with this project!
Janina also wishes to thank existing family in Norway and family in Canada who have provided background stories, family history, the opportunity to visit "the ancestral homelands" and have always been patient but inspiring educators along this learning journey and exploration of heritage!
"Canada Norse: The Swans of Winter Project" is dedicated to Janina's grandparents, Knut and Marie Skutle
Gulfoss, Iceland